Electric Shadows
Below is a newsletter from Verdensteatret. It concerns our solo exhibition at Guangdong Museum of Art, China.
Telling Orchestras and Funeral Machines. I spent most of January making sounds for these wonderful machines.
Guangdong Museum of Art 19 March – 18 April 2010
Verdensteatret presents two large-scale installations:
The Telling Orchestra, and the new work Electric Shadows.
Verdensteatret represented Norway in the summer of 2008 at the international new media art exhibition Synthetic Times: Media Art China 2008, organized by the National Art Museum of China in Beijing. Their installation was among the most acclaimed and memorable works of the exhibition and attracted considerable media and public attention.
This up-coming exhibition at Guangdong Art Museum will occupy 800 square meters and be a huge event reaching out to a wide audience in the southernmost city of China.
Verdensteatret is an art group based in Oslo. The group consist of artists from many different artistic professions making installations, performance art, concerts and other art related works. Characteristic for their work is that they are building exquisite links between seemingly incompatible technologies and materials.
Verdensteatret currently ranks amongst the most innovative art groups in Norway. Their characteristic combination of advanced technology in a close dialogue with more traditional tools, results in complex works and space-related compositions. Their works are presented internationally in different art contexts and locations.
Electric Shadows. This new work features a landscape of highly original sculptures, pre-cinematic animation, puppetry, music, lights and shadow play. All objects produce art and are also a part in it. The idea of simultaneous perspectives and multiple functions tied to each object creates a work of works. A delightful amount of possible connections across media and layers. Some obvious, planned and controlled. Others seen by the single spectator only, weaving her story, from available threads. It is a gratifying experience to lend this work time. Up close, movable miniatures perform in a theaterlike setting, except everything is exposed. One sees function and the craft gone into making it. From a distance the veil of illusion is drawn and the work takes on a poetic character, following the logic of dreams.
The Telling Orchestra. An electro-mechanical construction of weather-beaten planks that function as an audio-visual "animation-machine" where images, sculptors, sound, video is deeply integrated into each other to form an audio-visual composition. It's like a polyphonic instrument, or a moving sculpture with the ability to transform the whole room within a second. By use of different motors and robotics the "primitive" wooden construction has become automatic and is programmed and run by computers. The background for The Telling Orchestra is a journey the group made on Greenland in 2003.
Artists:
Asle Nilsen, Lisbeth J. Bodd, Håkon Lindbäck, Piotr Pajchel, Christian Blom, Kristine Roald Sandøy, Rune Madsen, Espen Sommer Eide, Janne Kruse, Jannicke Lie, H.C Gilje.
"Established notions of form or style are more or less useless for these peculiarly captivating works of art."
Useful links:
Guangdong Museum of Art:
http://www.gdmoa.org
Verdensteatret:
www.verdensteatret.com
Browse and dl. high res. images from the two shows:
http://www.verdensteatret.com/vt_test_two/download/VT_pictures.html
Contact:
Elisabeth Gmeiner +47 96 83 05 12
Mail: elizabeth.gmeiner@gmail.com
Lisbeth J. Bodd +47 97 04 15 91
Mail: lisbethb@powertech.no
The exhibition is supported by: OCA, Arts Council Norway, the Ministry of Foreign Affairs, Norway and the Consul General of Norway, Guangzhou.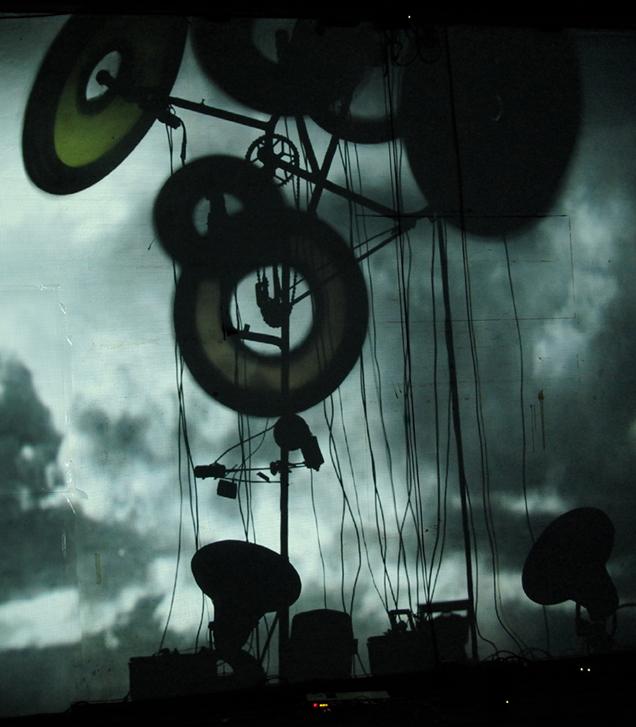 Electric shadows
Edit
|
Back