The connection between music and the Trolleybus is obvious. And very close. The Trolleyhall in Bergen (where the Trolleybuses sleep) is housing a vintage veteran-Trolley from the Skoda-factory in Ostrow, Tsjekkia. This Trolley is the main artist in the Trollofon - which is an electronica-tribute to one of the purest and most forgotten artists in the world of electronic music - Skoda 9TR.
Espen Sommer Eide (phonophani) and John Hegre couldn't do Trollofon no. 1 alone: the vintage SKODA 9TR was the main attraction and host.
The trolleybuses are still going strong in most parts of the world. But in northern Europe where the welfarehysteriae has grown out of proportion, remains only one little route - route 2 in Bergen, Norway. But even this Trolleyroute is in danger. The municipal politicians of Bergen are discussing the Trolleyfuture as we speak.
PILOTA.FM will therefore invite electronica-artists from all over the world to participate in the Trollofon. First the artist receives a DAT or MD with original SKODA-sounds. These will be a possible sample-material and inspirational source. Then the artist has to take a bus to Bergen. Or a plane.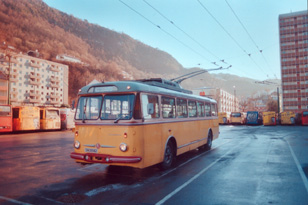 The old SKODA 9 TR has only 33 seats. Which is one of the main reasons why a Trollofon is such a remarkable experience. An old shiny yellow beauty scrolling down from the endstop (a mountaintop called 'Birkelundstoppen') towards downtown Bergen, filled with beautiful live audio.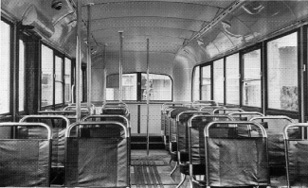 33 seats are built in the 9TR. 33 passengers can experience the Trollofon. 33 tickets are available.
The electric engines of the bus does not only give the Trolleybus it´s needed power - they also give energy to the Trollofon. The electricity is taken directly from the wire-network above. Such were the old Trolleys. The louder the musicians are playing the slower the Trolleyengines are working. If the musical intensity is extreme- the whole route will be shortcircuited. Then at least 8 Trolleys will stop. These are the stakes.
The whole environment around the bus is influenced by the Trollofon. Two grand loudspeakers in the back of the bus resonate through the landscape around and makes it flicker and glow like a vintage movie. While performing the Trollofon the 9 TR drives from up above the scenic fjord-view, down through the historical and central parts of Bergen. All the way distorting and manipulating the surroundings with sound.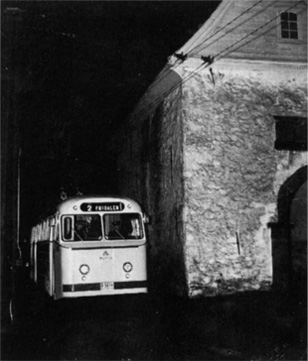 The medieval gate of Bergen is a part of Route 2. Then upwards the idyllic hillside called 'Kalfaret' - the Calvary.
The Trollofon isn't only a electronic show off. It is also demonstrates for the politicians a singular message: that we have to take care of our Trolleyline. The politicians haven't decided yet what to do. The Trolleyfuture is still insecure. Therefore your artistical and mental support is very important and fundamental. The 9TR need that support.
Visit the old webpages of Pilota.fm and the Trollofon project: trollofon.bek.no
Back